CAD Conversion Services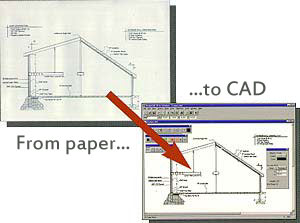 Our AutoCAD conversion service is a quick, low cost and efficient way of converting paper drawings and plans into CAD editable formats. We offer an expert CAD Conversion service (automated conversion and manual drafting) with a fixed pricing per drawing or plan. Our fixed pricing allows our clients to budget their conversion project accurately though we can also offer reduced rates for bulk conversions.
Pearl Scan specialises in all types of document conversions including various maps, architectural, mechanical and engineering drawings and plans. We can produce files in any required CAD format including AutoCAD (DWG, DXF, Micro Station (DGN) and many others.
Upon receiving the paper drawing we will convert that through our high format scanners with necessary dpi required to convert it to a raster image. Once the raster image is prepared we will either digitized the drawing in AutoCAD using software like CAD Overlay or manually redraw it which is recommended.
Preliminary CAD Conversion Approval
Our preliminary auto CAD conversion service enables our clients to sample the quality of our conversion work before completing the entire project.
Drawings Returned
Most of the paper drawing conversion to AutoCAD formats involve scanning the paper drawings or plans. We will return your original drawings or plans soon after the scanning process is complete. The completed digital CAD converted or drafted files will then be delivered to you either on CD or via e-mail.
For further information on Pearl Scan's CAD conversion services including details on our extremely attractive prices, please contact us today:
Tel: 0161 832 7991
E-mail: This email address is being protected from spambots. You need JavaScript enabled to view it.